Who we are
Giovanna and Elivio welcome you!
The restaurant Antica Osteria "da la Stella", opened in September 2009.
It overlooks Via Raffaello the most famous street in this Renaissance city of Urbino and is located twenty steps from the native house of the artist Raphael.
The restaurant offers a
unique menu that echoes the antique cuisine, specific to le Marche.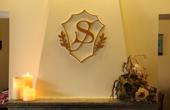 The ambience and even the architecture demonstrate the owner's love for antique things; the ceiling's dark wooden beams with the soft lights on the ceiling, enable diners to enjoy the meal in peaceful comfort.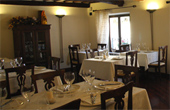 The service is excellent and the room can host about forty people.